Description
Real-time readings of the load on mooring lines
Real-time mooring line tension and alarm warning
Can be installed on new units or retrofitted easily to existing units in onshore and offshore applications (ship to ship / tandem)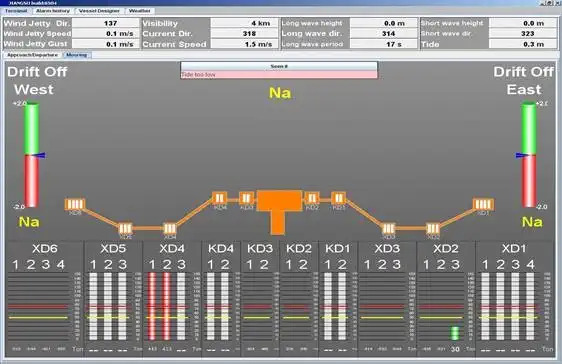 SmartHook® is a system for measuring and displaying critical mooring line tensions to give operators warning of when the ideal load limits are exceeded. The system consists of a load cell installed in the Quick Release Hook (QRH) pivot, a local controller mounted on the QRH base, monitoring software and an optional light and siren stand.
The calibrated load cell senses mooring line loads and transmits the data to the local controller and the monitoring software. The software graphics make it very easy for operators to see what the loads on each line are. Should the loads exceed the user-defined limits, alarms such as the light and siren are activated to warn operators that a particular mooring line needs attention. An LCD in the local controller also displays the load values.
Smarthook® can be installed on new Trelleborg QRH units or retro-fitted to existing hooks of any brand. It can also be used for offshore operations such as ship-to-ship (STS), single-point (SPM) and tandem mooring. Smarthook® can be installed on a stand-alone PC or integrated with Trelleborg Marine and Infrastructure's Smartdock® docking aid system or environmental monitoring system.